I have to wear glasses everyday, might as well take a chance at mixing it up right?
I've been wearing glasses since I was 9 years old so… forever. I would always get excited to go get my eyes checked because regardless of if my eyes got better or worse, it meant new glasses!
However new glasses also meant being limited to what the insurance covered, still exciting but definitely a party pooper. I dreamed of the days when I could afford name brand glasses that I loved.
Fast forward years later and as glasses have evolved into cooler and more unique styles, I noticed so have the prices!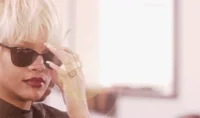 There are now many websites that offer cool stylish glasses at a cool and stylish price. My younger brother decided he would try buying frames from one of these websites named Firmoo.com. I always warn him taking the cheap way out will always result in mess but this time I was wrong. He got two quality pairs of glasses for under $30! As a college student this was perfect for him. So I decided to try it out for himself. If I'm gonna be wrong I want to see what the hype is about.
I got my prescription from the eye doctor by mail, super easy. I spent a while looking for glasses I liked best as Firmoo has a wide selection of frame sizes, shapes, and colors. I read a lot of reviews, looked at pictures people uploaded, searched the hashtag on Instagram and even measured my face to get a better idea of how they would fit. Finally I carefully entered my prescription and got the option of the most regular basic lenses. (They have bifocals , transition lenses, and more.)
Order placed.
They arrived within a week or two and although the frames took some time to get used to (I'm a very basic black frame kinda girl), I was pleasantly surprised at the number one factor. They worked! I could see! Prescription was perfect.
The glasses are super lightweight but still have the feel of real glasses. They come with a case, the cleaning cloth, discount codes, and small tools for repair purposes.
I now have 5 pairs! I haven't spent more than $30 an order mostly due to the BOGO sales they always have. I also had a situation where I wanted to exchange and the customer service was quick and very accommodating. I would 100% recommend using Firmoo and I have to my friends! I'm confirming it's legit. I've had them now for months with no issues.
See pictures of all my glasses below and the links below!
https://www.firmoo.com/eyeglasses-p-4766.html
https://www.firmoo.com/eyeglasses-p-4845.html
https://www.firmoo.com/eyeglasses-p-4961.html
https://www.firmoo.com/eyeglasses-p-4526.html
https://www.firmoo.com/eyeglasses-p-4611.html
Let me know if you try Firmoo!