Anytime my hair is tangling and acting unruly, I know one of the main factors may be its time for a trim.
Sometimes I can see the ends of my hair thinning , if I stretch it out I see a clear line of demarcation of where exactly needs to be cut. This may be 0.5 inches or even up to 3 inches depending on your hair. Trims are very important in relation to the health of your hair. Health over length is not just a saying it's the truth. What good is hair down your back if I can see through it? Get a grip and let it go. (This does not apply to folks who are transitioning).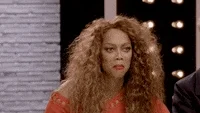 Professionals say you should get a trim every 6 months which is about twice a year. Do I do this? No. This is because I do not advocate trimming your hair yourself, and I only get my hair trimmed when it is professionally being done. This is most likely whenever I am straightening my hair, which of course I do not do often. Now, have I ever trimmed my hair myself? Absolutely. I used to trim my hair myself when I thought I could do it on my own, after watching all the hair gurus do it on YouTube.
Honestly this only caused me to have uneven hair.
I became more familiar with the term "dusting" which is lightly trimming your scraggly ends, and I took off barely anything. When I tried blow drying my hair and trying to take off about an inch, I just kept cutting and cutting trying to get it even. Then there was a time I was doing the search and destroy method. This entailed me literally looking for split ends and heat damage, and cutting those strands, which ultimately made my hair even MORE uneven.
When it came to heat damage I have also cut huge chunks of my hair more than once. I had heat damage in the front of my hair, my crown, and my nape. On three different occasions I have cut these parts of my hair (impulsively) and they did grow back with no issues. However again, I would not recommend this. At this point after years of doing trims myself, I've come to the conclusion that no matter how intensely I watch YouTube videos of trimming hair, it is not smart for me to try to do the same if I really care about my hair. It will have you messed up in the game. Especially if I am interested in keeping a certain hair shape or if I am preserving layers along with my overall length. At this point I think we have all had a bad experience trying to do something on YouTube. If you insist on cutting your own hair, be sure you are using hair shears and not any scissors you find laying around. See below hair shears found on Amazon, but they can also be found in your local beauty supply store for $3-$7. It is a good investment!
https://www.amazon.com/DianeD596EssentialSmoothShears/dp/B002KZ31Z4/ref=sr_1_2_it?ie=UTF8&qid=1502711754&sr=8-2&keywords=hair%2Bshears%2Bdiane&th=1
Right now I am currently on the search for a natural hair salon that can cut my hair without me having to straighten it. Does this mean I won't try to cut a part of my hair impulsively again? No. But I put spend way too much time and money caring for my hair to jack it up. For a peace of mind and for the sake of doing things the right way, put down the scissors.
Do you do at home trims?